Patterson, NY
SYNOPSIS:  A monument in memory of Thomas Keasbey, a well-know community figure, lies beneath a sugar maple planted in his honor.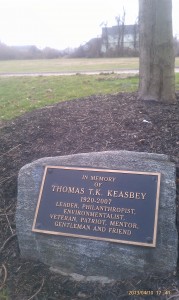 APPROXIMATE TIME:  N/A
DIFFICULTY:  N/A
 DIRECTIONS:  From the intersection of Route 22 and 311, head west on Route 311 for 7/10ths of a mile.  Just after the train track crossing, turn left onto Front Street.  Go 3/10th of a mile and the road will turn right just after the Patterson Recreation Center (if you turn left you will be going over LIVE railroad tracks!).  Look for the red one-room school house in the open area next to the brick school building.  The Thomas Keasbey memorial is near the rear of the one-room schoolhouse.
 THE VISIT:  A swatch of green space next to the elementary school offers a great spot for a picnic or to relax on a nice day.  The Little Red Schoolhouse is the main structure, and there is a gazebo with picnic tables.  The Thomas Keasbey memorial and the Jeanne M. Galliano memorial sit nearby.
HISTORY:  Thomas Keasbey  was a well-known Patterson resident who was very active in the community.  He was a World War II veteran who flew 17 bombing missions.  He was shot down on March 6, 1944 and was a prisoner of war for 14 months in Stalag Luft I.  While volunteering for Youth for Eisenhower he met his wife Edie Keasbey in 1951.  They moved to Patterson in 1958., moved to Florida in 1969 and returned "home" in 1982.  Thomas served on the Patterson Town Board in the early 90s, and helped to preserve the Little Red Schoolhouse.  He was a Past President of the Patterson Historical Society, and he and his wife Edie were involved in the establishment of the non-proft conservation group FrOGS (Friends of the Great Swamp).  Thomas and Edie Keasbey have donate land to the Putnam County Land Trust – notably the Sterling Farm Preserve in 1997, and the Tom's Path Preserve in 2009 which was named after Thomas.
The tree was planted in November of 2007.
MAP & ADDITIONAL INFORMATION:   N/A
Sources:
Risinit, Michael.  Patterson Resident and Activist Thomas Keasbey Dies.  The Journal News.  Aug. 23, 2007.
Memorial Service for Thomas T. Keasbey handout from Nov 11, 2007 service.
Personal visit 4/10/13.
www.pclt.net.  Accessed 4/16/13.
The Nature of Things blog at http://nature.lohudblogs.com/2007/11/13/a-new-tree/.  Accessed 4/16/13.