Fishkill, NY
SYNOPSIS:  16.8 acres of parkland with a lookout platform, pavilion with fireplace and picnic tables, pond, and two foot bridges.
APPROXIMATE TIME: 30 minutes to three hours, depending on what you want to do.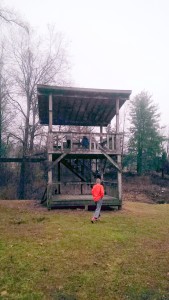 DIFFICULTY: Easy.
DIRECTIONS:  West of Route 9D, just off Old Castle Point Rd.  From Route 84, get off at exit 11 and head north on 9D for about 2 miles. You will pass Dutchess Stadium on your right.  A little past the stadium, Castle Point Rd is on the left. Make a left onto Castle Point Rd and Camp Foster is about 300 yards down on the left hand side.  Make a left to get onto Old Castle Point Rd, which runs parallel to Castle Point Rd.
THE VISIT:  We visit Castle Point VA Hospital twice a year with the local VFW – in the summer to host a cookout, and in the winter to host a holiday party for some of the long term patients at the facility.  I've been intrigued with the property since the first time I saw it, but I could not find any signage clearly indicating it was open to the public.  I finally contact the Town of Fishkill Recreation Department and found out it was a park, so December of 2014 when we were back at the VA, I just had to stop.  It was raining, so we didn't spend much time there, but it's a nice piece of property.  The first order of business was to hit the lookout tower that you can see from the road.  Some of the railings were missing, and there were some exposed nails, so I couldn't give the kids full access, but in its heyday it was probably a cool structure.  From there we headed across the footbridge nearest the tower, and up a small hill to the pavilion.  The pavilion has a large stone fireplace and a few picnic table, and seemed to be in pretty good shape.  I had to steer the kids away from reading some of the graffiti – it seems it is a popular place with teenagers.  From there we headed downhill across another footbridge that crosses over the stream as it flows into the pond.  We then headed back to the car – the rain just wouldn't let up.  The property is just over 16 acres, so we didn't see all of it.  It is definitely a place I want to go back to when we have more time and some sunshine.
HISTORY: Camp Foster used to be a Girl Scout Camp, used by them from the 1950's until 2003.  The town of Fishkill bought it in 2006 for $420,000 using funds from the town's parkland trust, which is funded by developers.  Using the "Helmets to Hardhats" program, eight veterans were chosen to work on the restoration project.  The 2007 project won a Dutchess County Planning Federation award in the "Public Amenities" category.  Joseph Bernstein of Fishkill did his Eagle Scout Project on the property.
MAP & ADDITIONAL INFORMATION:  There is a second access point via Magnolia Road.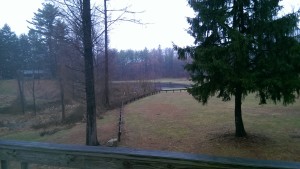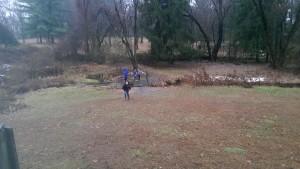 Sources:
http://www.co.dutchess.ny.us/CountyGov/Departments/Planning/planonit062008.pdf, accessed 12/09/14.
http://www.fishkillrecreation.com/content/town-fishkill-parks, accessed 12/09/14.
Personal visit 12/06/14.
http://dutchessdemocracy.blogspot.com/2010/06/rally-fri-to-protect-clove-creek.html, accessed 12/09/14.
http://www.midhudsonnews.com/News/Archive/CampFoster-18Sep07.html, accessed 12/09/14.
Phone conversations with Brandon Knapp, Town of Fishkill Parks Department, various dates.