The stone chambers scat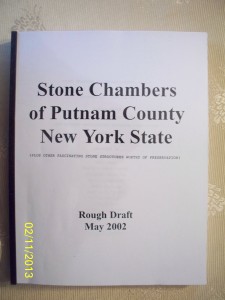 tered throughout Putnam County are unique to our area, especially considering the sheer number of them in such close proximity.  Some feel they are root cellars built and used by farmers to store perishables, while others believe they were built thousands of years ago – at least partly because some of the chambers line up with the soltice and equinox.  I recently picked up a copy of the rough draft of Stone Chambers of Putnam County New York State (Plus Other Fascinating Stone Structures Worthy of Preservation) by Martin Breech, from May of 2002.  He seems decidedly on the side of the arguement that these were religious structures.
Personally, I am on the fence – I don't give them particular religious signficance yet, but I have to admit the construction seems a bit over-the-top for a root cellar.  Imagine moving and placing those stones without the aid of heavy machinery!  Regardless of what you beleive, or what the real reason is for the stone chambers, I think Putnam County is missing the boat.  We have these chambers pock-marking our landscape.  They are surrounded by mystery and controversy.  We have something no one else really has.  We should be playing up the mystery to attract tourists.
---